The weekend is what you make of it - there's endless opportunities whether you're at work or play. Today we speak to Sophie Murray. We love Sophie's beautiful documentation of family life over on Instagram and were keen to find out what inspires the lady behind these beautiful photographs...
What do you do for work?
I'm a part time teaching assistant at our local primary school. I recently left a career at a bank to explore the possibility of going into teaching. It was important to my husband and I that I work part time while the children are young and I feel very fortunate to be able to do this. I cherish my afternoons with my two boys.

What is your passion outside of work?
There are a few actually! For the past 2 years we've been renovating a 300 year old cottage in North West Leicestershire. Having just found out I was pregnant with my second child, we decided to move back to Leicestershire from South Wales where we'd been living for almost 9 years. We viewed a derelict cottage and, DIY being an alien concept to us, lost our minds and bought the place. We learnt on the job and just two weeks before the baby arrived we finally moved in. We had to gut the entire cottage. It had damp, woodworm and dry rot. It needed a full re-wire, new central heating system and a new kitchen and bathroom. We literally started from scratch. Getting creative with the interior has been a dream. Occasionally a nightmare, but mostly a dream! I love trawling antique shops, car boots and eBay for bargains. We're far from finished but things are coming together slowly.
I've been attending a sewing class for a year now and am really starting to get to grips with my machine. I love the sense of satisfaction you get as you see a project come together. I studied fine art at university and I've always painted but having children and renovating the cottage hasn't allowed me the time to do this as much as I would like so it feels great to be doing something creative again. I've enjoyed having to be disciplined enough to see a project through to completion and sewing has given me the determination to find time to paint more.
We are National Trust members and over the last year and a half we've explored 26 different properties around the country (some multiple times). We love being outdoors, watching the boys exploring and getting dirty. Being a member has enriched our lives so much.
We adore your beautiful photos on Instagram, what inspires your photography?
Thank you! I see my Instagram account as a photographic journal. I'm not the most technically minded person and the lure of the dark room never really appealed to me. As a painter, I do however, understand composition. I try to capture the warmth I feel as I hang out with my family, I like to share funny moments with the boys and of course, my passion for interiors, specifically the cottage.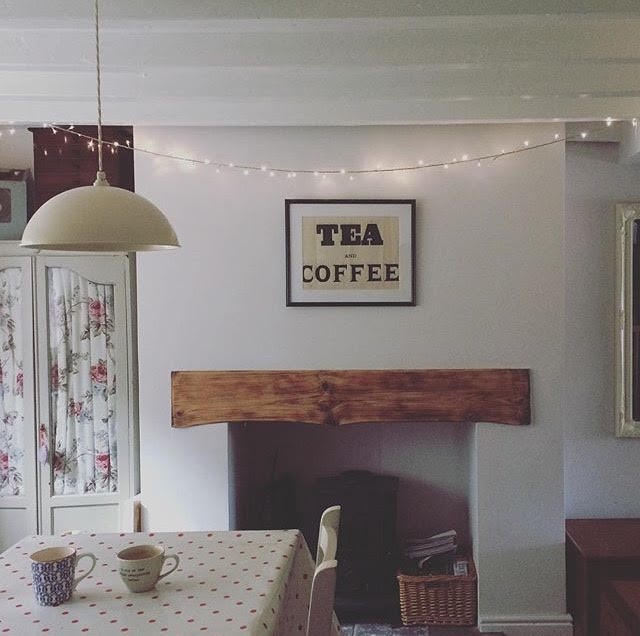 When is your weekend?
We're standard Saturday and Sunday folk. My weekend starts when we finish school on Friday and usually ends with a slob on the sofa on Sunday night.

How did you spend this weekend?
Saturday:
I met my brother for lunch and a Camp coffee at 1940s themed The Larder in Ashby de la Zouch. I had bubble and squeak with a poached egg which was delicious.
We recently bought a DVD version of the 90s board game Atmosfear. I spent the afternoon baking and cooking dinner for friends who came over for a game in the evening. It was a late one!
Sunday:
We had a slow morning and after a late breakfast we drove to a garden centre and picked up some bulbs to plant ready for spring. We stayed for coffee and cake and I spent the afternoon curled up on the sofa planning next year's garden with a film on in the background.

How typical was it for you?
It wasn't! We rarely have a slow day. We are constantly on the go, often driving an hour or more to different National Trust properties so it was a welcome treat putting my pyjamas on at 4pm.

What was your highlight of last week?
It was my youngest son, Luc's second birthday on Tuesday. Although I worked in the day, we had family over in the evening and a little dinner party. He was beaming all evening, we had a lovely time.
Your ideal Sunday menu...

Breakfast: I'd go continental. I'd be sat outside a Parisian cafe alone, people watching with a croissant, a sketchbook and a cup of good coffee.
Lunch: My favourite lunches are the picnics we share when we venture out at the weekend. Even with a million pounds sitting ready on my America Express card, I would still be sat on my bottom eating sandwiches in the open air with my family. I may treat us to a new picnic blanket though!
Dinner: my husband and I would have a child-free meal at Jamie Oliver's restaurant in London. We love his cookbooks and Italian chain of restaurants so this would be such a treat. I'm vegetarian but my husband loves his meat and Jamie always finds a way to cater for the both of us.

What's in your fridge?
The fridge drawer is full to the brim with veg which we have delivered by super ethical, Leicestershire-based 'Wonky Veg' on a Friday. This week we received leeks, carrots, onions, potatoes, sweetcorn, lettuce, pak choi and mushrooms along with some sweet recipe cards (which we don't keep in the fridge). Our delivery of vegetables dictates our weekly menu, which is mostly vegetarian although I do cook meat for the boys.
The staples... Butter, milk, yogurts for the boys, cheese (white Stilton, cheddar, halloumi, feta and paneer), tomorrow's lunch (couscous salad) and a tub of leftover couscous. Oh and yogurt which I eat with homemade granola and figs. We're fairly well stocked today!
QUICK FIRE - without too much thought, name your absolute favourite...
Book: Breakfast of Champions by Kurt Vonnegut. This was my first Vonnegut book and I fell in love with his writing after reading this.
Film: Breakfast at Tiffany's (I'm all about the breakfast!)
Album: This is too hard! Scarlett's Walk by Tori Amos
Holiday destination: Paris
Museum: I definitely prefer an art gallery. The Pompidou Centre in Paris.
How can people follow you?
Over on Instagram... littledollydaydream (my great uncle used to sing this song to me as a little girl)