The weekend is what you make of it - there's endless opportunities whether you're at work or play. Today we speak to our friend, Leicestershire based Artist Lucy Stevens, who explores the relationship between Humanity and Nature through environmental soundscapes, digital illustration, drawing and printmaking. Lucy is also very well travelled and takes us on a round the world tour with her ideal menu!
What do you do for work?
I work in Arts Marketing at Attenborough Arts Centre (AAC) and have done now for 6 years. This can be anything from managing the website and social media to writing press releases and developing audiences through creating campaigns. So for example offering loyal audiences rewards for sticking with us or trying to attract new ones (Not actually as dull as it sounds!) I also really enjoy networking, including meeting with similar organisations and arts marketeers and securing partnerships with media and PR agencies to raise our profile. We have a varied year round programme of exhibitions, learning, education and performances so that's a lot of planning and promotion!
If we're talking artwork then i guess that my job at AAC means that I can pick and choose what I want to do with my own practice, as I'm not necessarily relying on it to generate an income, although that doesn't mean i'll work for free! I'm able to seek out new commissions and funding opportunities to develop my practice and collaborate with new artists, musicians and those who work in the arts sector. At the moment i'm really interested in the notion of the value of nature and the efforts to protect it from extinction through conservation. I've been recording the sound of birdsong and then visualising it using printmaking techniques, with the idea of raising the profile of birds and preserving their songs and calls to present to audiences at exhibitions and concerts.
Where did your interest in birds and the natural world begin?
Oddly enough with pigeons in 2010. I used to walk through the Rally Park when I lived nearby and I noticed a collection of pigeons gathered near the bridge everyday. I was interested in racing pigeons at the time and had met a few people that still raced them. I also took part in a citizen science project led by Cornell Laboratory in New York who were interested in why pigeons existed in so many colours. They were asking the public to count the number of pigeons and note down the different colours for a week or so... but I did this for a year and created two works to visualise this data.
What's been your proudest achievement in life so far?
Blimey, that's a tough question! I guess if i'm answering this as an artist it makes sense for it to be an artwork I've created and that's usually the most recent project, so it would have to be "The Red Species List'. This was a commission from AAC to respond to the Lucy + Jorge Orta exhibition. I decided to create a concert inspired by the songs of endangered birds in collaboration with musicians. I created over 200 monotype prints in preparation for the accompanying videos, but only used 20. The concert was a sell out, extra seats were added and I had some wonderful feedback from the audience.
And your biggest achievement outside of work?
Maintaining a great network of friends and family. I try to treat people the way I like to be treated and surround myself with people who have similar morals. These people mean a lot to me and are wonderful supporters of what I do. In particular my boyfriend Ali who is a musician, so understands the artistic temperament! Although my biggest champion is my Mum, she'd literally bend over backwards to help and has done so for many years, her belief in me (Whatever I do) is unwavering.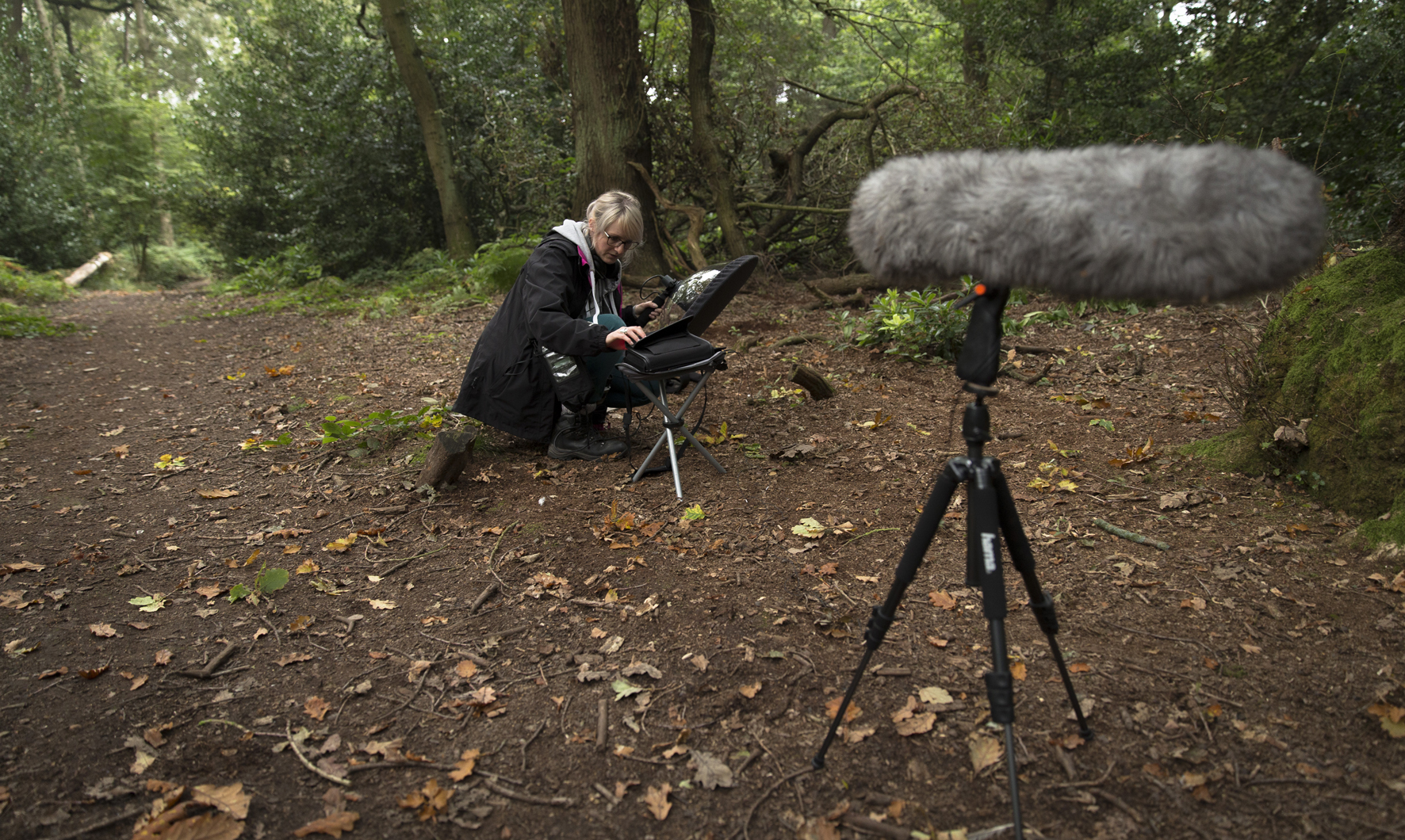 When is your weekend?
My weekend starts early on a Friday as I work half a day at AAC leaving the other half and the weekend to concentrate on my art practice. If i'm working on a commission with a tight deadline I will work every evening after work, at weekends and take leave from work to make sure its complete. It's a real love/hate relationship sometimes, but i'm not sure what i'd do without it!
How did you spend this weekend?
This weekend was my Dad's birthday and we went for a family lunch at the Forge Inn. I have a bit of an addiction to sausage and mash at the moment so that's what I ordered, but was too full for dessert and jealous when I saw what my boyfriend and nephews had ordered; waffles with toffee ice cream and chocolate covered popcorn... I tried a bit and it was gorgeous! After this we went to a friends wedding reception in Foxton Locks. We drank a lot of Pimms, ate a lot of cheese and danced until our feet ached! We (Ali my Boyfriend and I) had a very lazy Sunday, catching up with Game of Thrones by watching 6 episodes and eating pizza... a rarity!
How typical was it for you?
At the weekend i'm usually visiting friends or family, unless I have a project on, in which case I turn into a complete hermit. PJ's on, chocolate stocked, curtains closed (to block out the world) and completely focus on making new work or writing/researching. I can see why this would seem strange as i'm inspired by birds but decide to work in isolation, but it's the only way I can focus!
What was your highlight of last week?
I had the day off on Tuesday to go to a conference about print makers to learn about their practice and how and why they make work at DMU. After the conference I went to the Fine Art degree show. I was really excited by the standard of work on dislay, there were some great, really well thought out and technically interesting pieces. Thursday is always a good day too because I go to yoga after work, its just enough to keep me flexible but is quite gentle too, I usually end up falling asleep at the end of the session!
Your ideal Sunday menu....
Breakfast: In Berlin at the Wintergarten Cafe in Literaturhaus with my Mum. We went for Ali's birthday last year and had poached eggs and Prosecco for breakfast. I also adore the breakfast at Bar Dos Hermanos on Queen's Road, can't beat a half monty and mango juice!
Lunch: New York! We (Ali and I) were running around so much when we visited that we had to grab quick lunches, and we stumbled on the most amazing deli - Dean & Deluca. I had a huge beet (not beef!) burger covered in sour cream with avocado. It was so good I snuck it into the MOMA and continued to eat it out of site of security and my friends. Plus a peanut butter jelly doughnut which we shared at an 'Against Me' gig later on.
Dinner: I'm not a very adventurous eater. I'm the one who will order Bolognese when on holiday rather than try something new because i'm a bit of a fussy eater. I'd rather order a cocktail to try something a bit different. So let's say a traditional spaghetti Bolognese in Italy, somewhere like Lake Garda with a group of friends, not forgetting the cocktails.
What's in your Fridge?
Vegetables which usually get thrown into a chilli, bolognese, lasagne or curry (I like to make stuff in bulk)
Ready made sauces - i'm a but lazy when it comes to food.
Lots of things in jars - pickled onions, beetroot, piccalilli, strawberry jam, jalapeno peppers, mango chutney, sundried tomatoes, garlic puree, tomato puree, vinegar, tomato sauce, brown sauce, mayo, balsamic vinegar, Lea & Perrins, cheese, milk, eggs, white chocolate mousse, double cream, blueberries, bread, tortilla wraps, potatoes and Brahma Beer.
Quick fire - Name your absolute favourite...
Book: My New Holland concise bird guide, it's pocket sized so it comes with me on every trip to record the sound of birdsong. I'd be lost without it!
Film: Coming to America (I usually lie and say Amelie... which is still up there in my top 10)
Album: Anything by First Aid Kit
Holiday Destination: New York- I've just come back from here and it was bonkers and busy, full of culture, art and naughty food but I loved it and want to go back.
Museum: The Hunterian Museum in London - it's part of the Royal College of Surgeons and its a fascinating macabre collection of human and animal specimens. I also love the Natural History Museum, in particular the birds section (Of course!)
How can people follow what you do and get in contact?
My website: www.lucystevens.co.uk or on Twitter @lucyjstevens